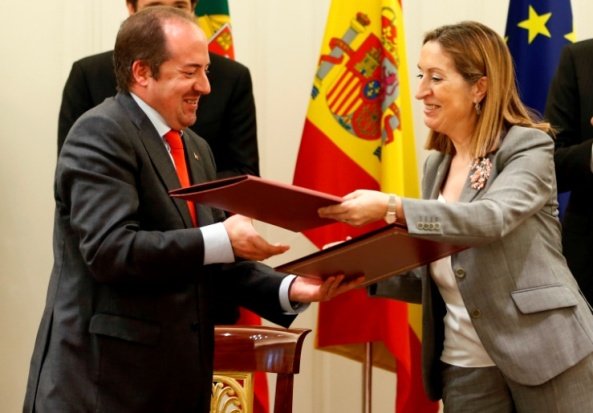 On 17th May 2013, the Portuguese Minister of Economy and Employment, Mr. Alvaro Santos Pereira, and the Spanish Minister of Development and Transport, Ms. Ana Pastor Julián signed in Lisbon the State Agreement for the establishment of the South West Functional Airspace Block (SWFAB) in accordance with the provisions of EU regulations concerning the achievement of SES.
The implementation of Functional Airspace Blocks (FABs) is one of the pillars on which 2004 Single European Sky initiative (SES) rests upon, and it has as a main objective the Airspace reorganisation so as to make it more efficient by harmonizing and improving air navigation services provision. FABs implementation, aims to increase safety, efficiency and capacity regardless of States boundaries, reducing the environmental impact of commercial flights, all without detriment of the sovereignty and obligations on their respective airspaces.
The State Agreement applies to Portuguese and Spanish States, but FABs implementation also involves cooperation and coordination between air navigation services providers in both countries, Aena and NAV Portugal. In this regard, note that both air navigation services providers have been working since 2001, under the framework of a Memorandum of Understanding between the two entities, on similar lines and objectives of the FAB concept ahead of that European initiative. This Memorandum was updated on 18th June 2012, with the signature of the "Framework Agreement for the establishment of the South West Functional Airspace Block " to comply with European Union requirements by adopting the reinforced cooperation model in the technical, operational, planning and safety domains.
The South West FAB implementation has a strategic significance as connection point for both transoceanic and north-south European flights and the signature of this agreement is a key milestone for the future air navigation development in both countries, which will continue working together under the premises endorsed by their States.