SW FAB Developments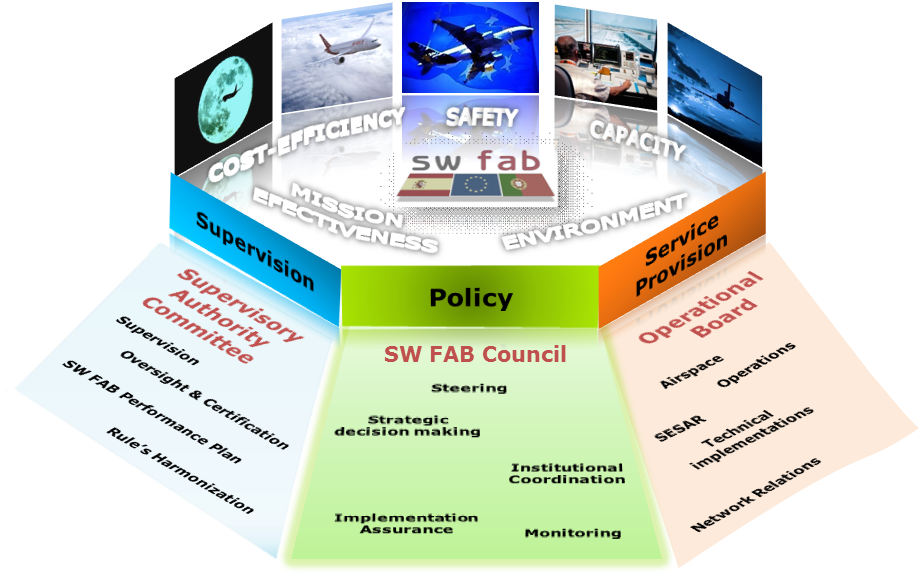 Since the signature of the SW FAB agreement by both Ministers, significant collaborative tasks have been carried out amongst SW FAB partners paving the way towards the achievement of the SW FAB objectives.
On the institutional side, the State authorities from Portugal and Spain confirmed the completion of actions for the ratification of the SW FAB agreement meeting one of the essential requirements established by the Commission to ensure the commitment of States to build the FABs and achieve the intended objectives.
Implementation of the Free Route concept, harmonization of ATM operational rules and procedures, redesign of the SW FAB ATS route network, civil-military coordination improvement through a more collaborative application of FUA and harmonized ASM processes, increasing sharing of CNS services, collaboration in meteorological information services, cooperation to SESAR contribution, etc. are some of the projects included in the SW FAB Common Plan which will permit the achievement of the SW FAB objectives and helping to meet SES FAB expectations described in Regulation (EC) No 550/2004.
As agreed, a periodical review of the SW FAB Common Plan (CP) progress will be carried out. These monitoring reports of the SW FAB CP describe the project status and include planning deviations and risks and mitigation measures in case of delay.
The development of the SW FAB OB CP projects shall contribute to reduce the impact on the environment by improvements of ATS routes, flight profiles and distances flown, with special focus on the implementation of all free routes projects.
New operational structures will permit to develop the airspace capacity so as to meet the demand of increased air traffic according to STATFOR forecasts, and taking into account the future agreed Europe wide delay target of 0.5 minute per flight.
It is expected that future traffic demand may be accommodated in a more efficient SW FAB airspace with the reduction in the ATC delays, increase efficiency whilst maintaining safety and improve environmental performance.
One of SW FAB OB CP primary goals is the establishment of means of ensuring our customers' operational needs which will allows us to work together towards delivering operational improvements and collaboratively agreeing priorities for joint action.
Reducing aviation's environmental impact and saving fuel are high on SW FAB OB CP priorities. Flight efficiency improvements come mainly from fuel savings and reducing air traffic related CO2 emissions.