Inter-FAB and Third countries collaboration
In terms of airspace covered and in order to satisfy a wide network approach, the projects in the SW FAB OB CP 19-23 go beyond the horizontal scope included in the Agreement between the Kingdom of Spain and the Portuguese Republic on the establishment of the SW FAB and ranges over the following airspaces:
Lisboa FIR
Canarias FIR/UIR
Madrid FIR/UIR
Barcelona FIR/UI
Santa Maria FIR
Bordeaux FIR
Marseille FIR
Brest FIR
All the projects included in the SW FAB OB CP have as the main objective the improvement of the performance not only inside the SW FAB area of responsibility, but also with collateral FABs and with neighboring third countries.
Inter-FAB/regional cooperation has been identified by the SW FAB as an essential element for the optimisation of the network as a whole. In particular, the SW FAB civil en-route ATS providers, ENAIRE and NAV Portugal, supported by their CAA's, have a long-lasting trajectory of inter-FAB/regional collaboration in the AEFMP area where French's civil en-route ATS provider DSNA (FABEC) and en-route ATS providers of third countries ONDA Morocco (Morocco), ENNA (Algeria) and OACA (Tunisia), since 2018, are part of.
The AEFMP was signed in 2002 before the launching of the SES initiative responding to former European ATM harmonisation initiatives and contributes to extending regional cooperation beyond the EU and European Civil Aviation Conference (ECAC).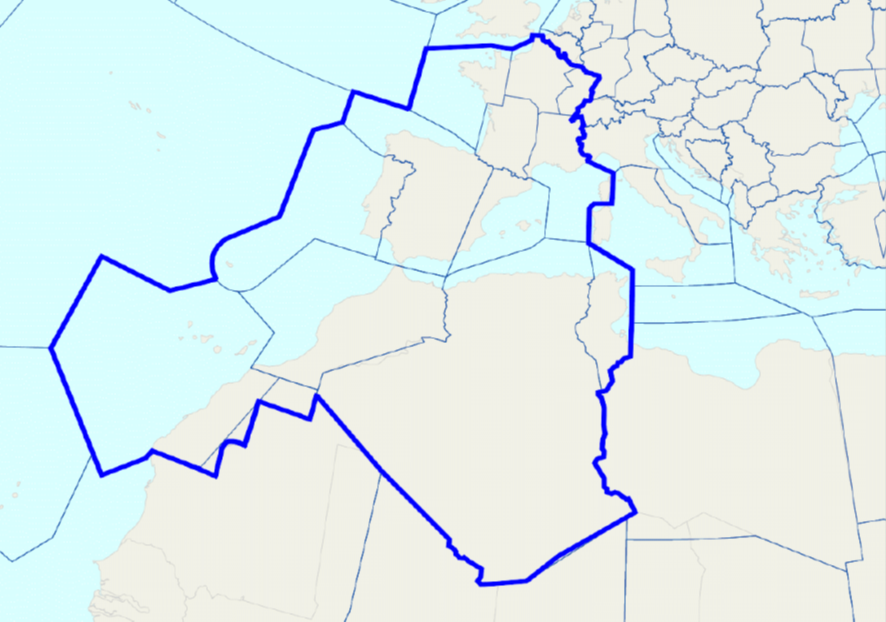 After the 15th Anniversary of the AEFMP initiative, membership was extended to Tunisia in 2018 and the initiative renewed their commitment to continue working together to facilitate the optimum use of their air space, maintaining the highest levels of quality and security, in line with the latest requirements and initiatives in place, such as the Single European Sky project.
From an operational point of view, the analysis of the geographical location of the SW FAB, its main air traffic flows (see figure below) and its horizontal scope has permitted to identify all neighboring areas surrounding the SW FAB and the traffic demand interchanged.
In this respect two main area of interest (AoI) are considered:
FABEC airspace (Inter-FAB);
Casablanca airspace (third countries collaboration)